BeltLink Inc. represents these Specialty Belt manufacturers:

Ammeraal Beltech Inc.
Link: www.ammeraalbeltech.com

Ammeraal Beltech, founded in 1950, is one of the world's leaders in process and conveyor belting. Ammeraal Beltech offers the largest range of belting products worldwide to over 150 countries. A truly global company, Ammeraal Beltech has seven production plants, over 80 service centers, more than 2,000 employees and 25,000 customers in 25 different countries.

In North America, Ammeraal Beltech is headquartered in Illinois with fabric belt shops in Los Angeles, Washington, Texas, Illinois, Pennsylvania, Rhode Island, and Canada. Inventory is stocked in all Ammeraal Beltech's belt fabrication shops, where they travel from to your site for belt installation.

Customer Service Personnel:
• Jeff Cabalquinto • Julia Cronin • Bob Fitzhenry
• Frank Collins • Jason Kotny
• Sherry Pfeiffer • Flavio Anaya

AMMERAAL BELTECH INC.
7501 N. St. Louis Avenue
Skokie, IL 60076

Inquiry and Order E-Mail: us-sk-customercare@ammeraalbeltech.com Telephone: 1-800-323-4170 Fax: 1-847-983-1377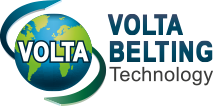 Volta
Link: www.ammeraalbeltech.com
Ammeraal Beltech has the largest distributor inventory of Volta products in North America. All fabrication is performed in their Illinois belt shop with limited fabrication in their Los Angeles belt shop.
Customer Service Personnel:
• Jeff Cabalquinto
• Bob FitzHenry
• Jason Kontny
• Sherry Pfeiffer
• Flavio Anaya
AMMERAAL BELTECH INC.
7501 N. St. Louis Avenue
Skokie, IL 60076
1-866-778-9017